MiM vs MBA: Class profile
When figuring out how to choose between a MiM or an MBA, it helps to understand who makes up the cohorts of each degree program.
Age and experience
If you're an undergraduate student or recent graduate pursuing a career in business, a MiM could be for you. The degree typically attracts younger candidates with zero to one year of work experience.
In contrast, the MBA attracts older candidates who already have established careers and a good number of years of work experience—anywhere from two or three, up to more than 10.
According to the Graduate Management Admission Council's mba.com Prospective Students Survey, 85 percent of Master in Management candidates are under 24, in contrast to only 28 percent of two-year, full time MBA candidates.
Sixty-one percent of MBA candidates are aged between 24 and 30, whereas only 12 percent of Master in Management candidates are. Eleven percent of MBA candidates are also 31 or older.
Career goals
Among MBA candidates, 42 percent said their main post-GME career goal is to get a raise/salary increase. Thirty-nine percent want to manage people, and 36 percent want to obtain a senior level position.
Master in Management candidates have different priorities. Fifty-two percent want to work for a company where they can travel internationally; 47 percent want to work outside their country of citizenship; and 39 percent want to live outside their country of citizenship. Thirty-seven percent want to manage projects, and 36 percent want to manage people.
Preferred destination
A large proportion of two-year, full-time MBA candidates (66%), target the US for their degree, with 11 percent focusing on Canada. That's likely because of the renowned strength of the program in the US, where the MBA was born, launched by Harvard Business School at the beginning of the 20th century.
The master in management degree is most popular in Europe, and European business schools dominate the Financial Times Masters in Management ranking.
In GMAC's survey, 25 percent of MiM candidates list the UK as their preferred destination; 23 percent target France; 10 percent Germany; and 6 percent the Netherlands. Only 10 percent of MiM candidates say the US is their preferred destination.
Some European programs allow students to study on multiple campuses across Europe. The European Triple Degree Master in Management at EMLYON Business School takes students to France, the UK, and Germany.
"You get different perspectives, from different professors, from the three different universities," explains Leonardo Deschaseaux, a graduate from the program.
MiM vs MBA: Syllabus
The key difference between a Master in Management and an MBA is that the MiM equips early-career students with the knowledge they need to kickstart their business career, while the MBA provides most students with the basis for career acceleration or a career change.
Both degrees equip you with generalist business knowledge and begin by covering core business topics, such as:
Finance
Business Analytics
Accounting
Marketing
Strategy
Micro/Macroeconomics
People Management
You then choose your electives, which allow you to deep dive and specialize in a certain area of business.
On both degrees you'll have the opportunity to travel overseas for immersive business trips. This will give you an understanding of how business differs across cultures, and how different locations adopt different business models, and pivot towards differing consumer bases.
Both degrees also adopt the case study approach, so you'll build up knowledge of how certain businesses approach and overcome challenges across industries.
You'll have opportunities to apply what you learn in class to real-life scenarios, through multiple company projects. For two-year MBA programs, you'll also likely have a summer internship in between your first and second year.
Some MiM degrees, such as the INSEAD Master in Management, also offer strong practical training. The INSEAD MiM finishes with a four-to-six-month professional exposure module, where you work as an intern or full-time employee at a company.
"When it comes to doing, which is what recruiters want, this method forces you to apply what you have learned," explains Thibault Séguret, program director for the INSEAD Master in Management. "You then get young people who get actual work experience, which is what they need most."
MiM vs MBA: Cost
A Master in Management degree is typically cheaper than an MBA. The London Business School MiM, for example, costs just over US$50,000, whereas the school's MBA will set you back close to US$130,000.
An MiM isn't always that expensive though. The top-ranked St Gallen Master in Strategy & International Management costs around US$11K for international candidates.
The price of an MBA varies too. In Europe, a top degree will typically cost you between US$60,000 and the US$130,000 of LBS. In the US, you could pay upwards of US$146,000 for the best two-year MBA programs.
When you factor in total cost, including fees and living costs during your degree, the MBA at MIT Sloan School of Management is the world's most expensive MBA, with a total cost of over US$240,000, according to the BusinessBecause Cost of MBA Report.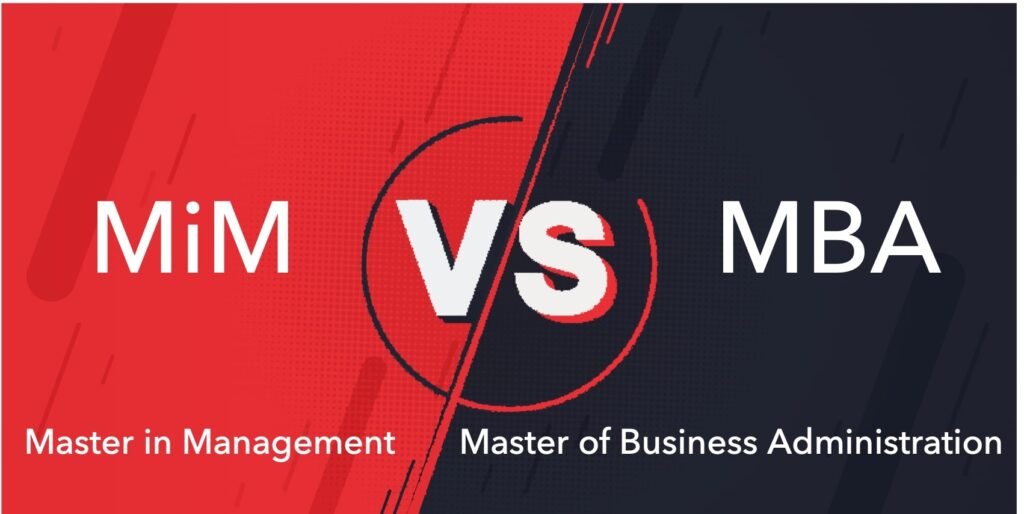 MiM vs MBA: Salary & job prospects
After graduation, both Master in Management and MBA students see a strong return on investment.
Graduates from the best Master in Management programs in the world can earn anywhere between US$80,000 and US$115,000 after business school, according to the Financial Times Masters in Management Ranking.
Grads studying at the best MBA programs in the world see a higher salary spike. They can expect to earn on average between US$150,000 and US$200,000 three years after completing their degree, according to the Financial Times Global MBA Ranking.
Whether in marketing, finance, tech, or consulting, the MiM provides a foundation for grads to enter a range of industries with a strong base of management and global business knowledge.
Typical jobs for MiM graduates include:
Associate Consultant
Business Analyst
Investment Banking Analyst
Marketing Analyst
The MBA is designed to accelerate and fast-track professionals into more senior leadership roles.
The degree is also fabled for its triple jump, which sees grads change geographical location, industry, and function. Grads command huge salaries, and often go on to lead teams for some of the biggest companies in the world.
Typical jobs for MBA graduates include:
Management Consultant
Investment Banker
Finance Manager
Operations Manager
Companies that hire MBA and MiM grads are similar, although the latter will be hired into more junior roles. At Bain & Company, for example, master's grads will be hired into associate consultant roles, whereas MBAs will come in as consultants.
Some of the employers that hire the most MBAs and MiM grads include Microsoft, Accenture, Deloitte, Google, Amazon, Bain & Company, the Boston Consulting Group, and McKinsey.
MiM vs MBA: Which should you choose?
Getting a Master in Management doesn't mean you can't later study an MBA. Some professionals obtain both during their careers. A Master in Management can give you a strong base to launch your business career, and then later an MBA can accelerate you into senior leadership roles, or allow you to pivot your career entirely.
However, if you're on the younger side, under 24, and have just recently graduated from college, or have less than two year's professional experience, an MiM degree is typically the best fit for you.
If you're a career professional with around three or more years of experience, and are between 24 and 30, or older, then an MBA should be your go-to. It's also the degree for you if you're looking to fast-track into a senior leadership role or change your career entirely.
When choosing the right program for you, research class profiles, speak to alumni, and visit school campuses if you can.
Think about what stage you're at in your career, and what you want from your degree, and you'll be well on your way to figuring out whether an MiM or an MBA is the best fit for you.
Take our quiz What's the Best Business School Program for Your Personality? and see what customized recommendations you get!