Brazil suffered its first ever home World Cup qualifying defeat on Tuesday, as Argentina earned a 1-0 win on a night of violence and chaos at the iconic Maracanã stadium.
Defender Nicolas Otamendi's towering header on 63 minutes secured a historic three points for Argentina and condemned Brazil to a third straight qualifying defeat for the first time in the Seleção's history.
However, the match was overshadowed by violence in the stands which delayed the start of the World Cup qualifier.
After fighting broke out between the two sets of fans – which were seated together at one end of the stadium – during the national anthems, Brazilian police moved in to quell the violence but their heavy-handed approach with the Argentine supporters incensed Lionel Messi and the rest of the national team.
The Inter Miami forward first led his teammates over to the stand where the fighting was taking place and pleaded with both the police and Argentina fans – some of who were seen throwing ripped out seats at the security officials – for calm.
Some pictures show crying children in the stands, with one woman carrying a child in her arms as she tries to clamber over the seats and away from the violence.
In one remarkable moment, Aston Villa goalkeeper Emi Martinez climbed up onto the stand and pulled the arm of a police officer to try and prevent him from using his baton on an Argentina fan.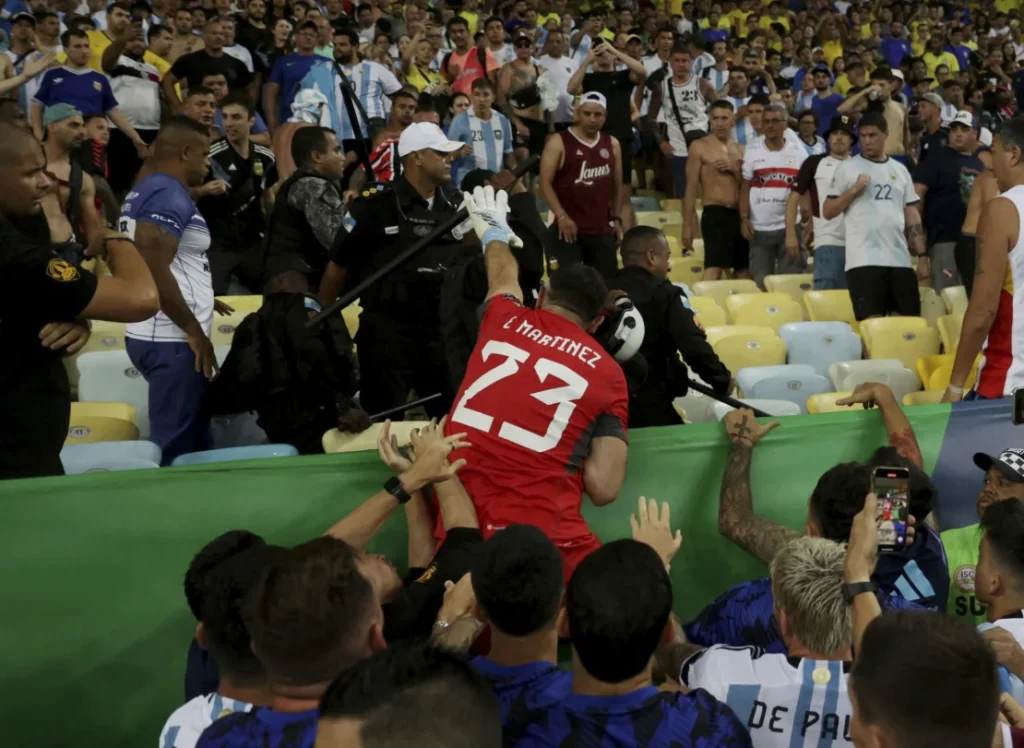 Messi then led the team off the pitch and back into the changing rooms where they stayed for 10 minutes. The match eventually kicked off 30 minutes late.
In a statement published to its website, the Brazilian Football Confederation (CBF) said mixed fans is "standard" in matches organized by FIFA – soccer's world governing body – and South American football's governing body CONMEBOL.
"This is not a model invented or imposed by the CBF," the statement added. The CBF said 1,050 private security guards and 700 military police officers "worked to secure the match."
"Therefore, the CBF reaffirms that the action, security and operation plan for the match were strictly followed, as approved by the RJ Military Police and other authorities."
FIFA President Gianni Infantino said on Wednesday there is "absolutely no place for violence" in football.
"Such events, as seen during the World Cup qualifier between Brazil and Argentina at the Maracanã stadium, have no place in our sport or society," he said in a statement.
"Without exception, all players, fans, staff and officials have to be safe and secure to enjoy and play football, and I call on all the relevant authorities to ensure that this is respected at all levels."
Brazil's state military police said in a statement that its officers were "involved in a scuffle among fans," adding that eight people were arrested, including a woman for allegedly racially abusing a Maracanã worker.
CONMEBOL and the Argentine football federation didn't immediately respond to CNN's for comment.
"The truth is that this group continues to achieve historic things, once again," Messi told reporters after the match, per Reuters. "Obviously, at the beginning it was bad because we saw how they were beating people.
"You think about the family, the people who are there, who don't know what's going on and we are more concerned about that than playing a match. At that point the match was secondary.
"After that, winning this game like this I think is one of the most important wins that this group has achieved. It is something very nice to be able to win here in Brazil, after how strong they have been at home throughout their history."
In a further unexpected twist at the very end of the night, Argentina manager Lionel Scaloni placed doubt over his position as the national team head coach.
"I need to think a lot about what I'm going to do," Scaolini told reporters. "It's not goodbye or anything else, but I need to think because the bar is very high. It's complicated to continue.
"It's difficult to keep winning and these guys make it difficult. It's time to think this time, I will tell the president, I will tell the players. This team needs a coach who has all the energy possible."
The win keeps Argentina top of World Cup qualifying, while Brazil is now languishing in sixth place and is now without a win in four matches under interim head coach Fernando Diniz, who recently led Fluminense to Copa Libertadores glory.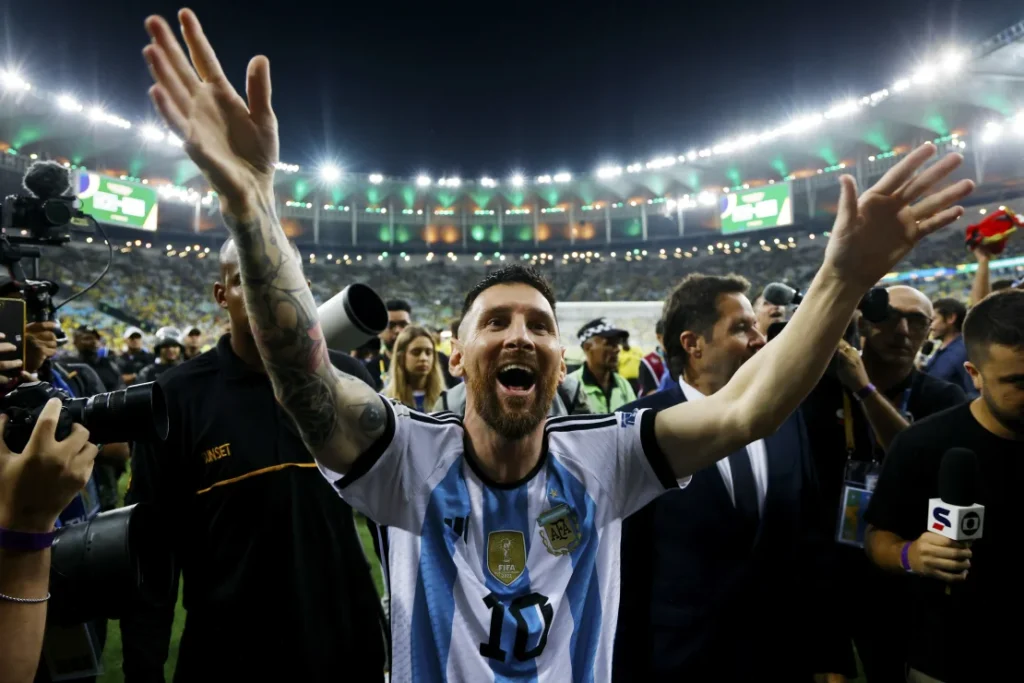 There are 18 rounds in South America's World Cup qualifying system, with the top six teams progressing to the 2026 event while the seventh-placed country will go into the FIFA play-off tournament, which will involve six countries from other continents.