The MBA is the world's most popular graduate management degree. Employers love it and students can't get enough of it. Thousands of ambitious professionals apply to different types of MBA program each year.
As a generalist degree, the MBA gives you fundamental management knowledge, meaning you'll get a holistic view of business across areas like marketing, finance, and accounting, all while developing those vital soft skills and leadership skills.
Famous MBA alumni include CEOs of multinational companies, successful entrepreneurs, and former Presidents. George W. Bush, Michael Bloomberg, Tim Cook, Satya Nadella, Sundar Pichai, Sheryl Sandberg—they all have MBAs.
So what can you do with an MBA degree? What types of MBA programs are available? And is an MBA worth it?
What does MBA stand for? MBA definition
MBA stands for Master of Business Administration.
First introduced by Harvard University Graduate School of Administration in 1908 (now Harvard Business School), the MBA is the original graduate degree offered by business schools globally.
Having "MBA" on your resume will help you stand out to employers, but the true meaning of the MBA goes beyond three letters on a sheet. During an MBA, you'll build your business knowledge, grow your professional network, and boost your career and salary prospects.
What does MBA stand for? MBA definition
MBA stands for Master of Business Administration.
First introduced by Harvard University Graduate School of Administration in 1908 (now Harvard Business School), the MBA is the original graduate degree offered by business schools globally.
Having "MBA" on your resume will help you stand out to employers, but the true meaning of the MBA goes beyond three letters on a sheet. During an MBA, you'll build your business knowledge, grow your professional network, and boost your career and salary prospects.
Who is an MBA degree for?
There is no typical MBA student. While historically MBA students pursued careers in finance or consulting, the average MBA class today is filled with students from a wide variety of professional backgrounds.
There are 69 nationalities represented in the Harvard MBA class of 2022. Forty-four percent of students are women and 45 percent are US minority students. Students come from the technology industry, manufacturing, healthcare, nonprofits, the media, and the military, as well as finance and consulting.
At INSEAD, 88 nationalities are represented in the MBA class and students come from academic backgrounds ranging from business and engineering to the arts and political sciences.
According the Graduate Management Admission Council™ (GMAC™), the top career motivations for prospective MBA students include: salary increase, promotion to senior positions, managing people, and working internationally—and these benefits are just some of the many reasons to get an MBA.
Whatever your background, if you want to learn management skills and advance your career, the MBA is for you; whether you want to start your own business, progress within your current company, switch function, industry, location, or all three at the same time.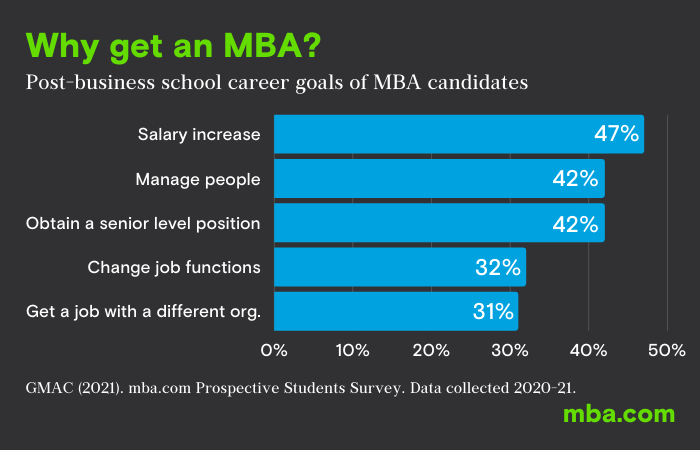 "An MBA is not just designed to equip students for their next job post-graduation; it's a life changing experience that enables students to make career changes five, 10, and 15 years post-MBA, thanks to the skills they learn and the network that lasts long after graduation," says Virginie Fougea, global director of admissions and financial aid at INSEAD.
Types of MBA programs
While the traditional full-time MBA degree is a popular option, the MBA today comes in all shapes and sizes. Business schools offer various types of MBA programs suited to different profiles of students.
Full-time MBA
The full-time MBA is the original, immersive, on-campus experience, designed for early and mid-career students who may be looking to completely change career path. The two-year, full-time MBA program is most popular in the United States and offered by the group of elite M7 Business Schools.
The one-year MBA is especially popular in Europe and Asia, offering an accelerated experience and less time out of the workplace, although full-time MBAs come in a variety of formats. INSEAD's MBA takes just 10 months to complete, while London Business School offers flexible exit points after 15, 18, or 21 months of study.
Part-time MBA
The part-time MBA allows you to combine work and study, meaning you don't miss out on your salary and the opportunity cost of pursuing a full-time program. Part-time MBA classes typically take place in evenings, weekends, or in flexible modular formats, combining online learning with in-person sessions.
Executive MBA
The Executive MBA is a part-time MBA program targeted at experienced, executive-level professionals with over 10 years of work experience. EMBA programs bring senior leaders together to upskill, network, and knowledge share, with participants bringing their professional projects into the classroom.
Online MBA
The Online MBA is a super-flexible, part-time MBA experience, allowing you to continue working while studying from the comfort of your home. Online MBA programs typically require a residential component (1-2 weeks), although there are an increasing number of 100 percent-online MBA programs. Many online MBAs also allow you to pay per module and plan your own study time. This means durations for online MBA programs can vary, although most take around two years to complete.
MBA specializations
While the MBA is a generalist degree, you can specialize in areas you're interested in. Business schools offer various MBA specializations including MBAs in healthcare management, business analytics, entrepreneurship, finance, marketing, and HR. These usually combine core MBA courses in management with a specialist track of courses focused on your area of interest.
In the US, STEM MBA programs have specializations that incorporate STEM topics and international graduates from STEM MBAs can stay and work in the US for up to three years without an H-1B visa.
You can also pursue dual degrees at most business schools, combining your MBA with a specialized business master's, or cross-university programs like the JD MBA, offered jointly by law and business schools.
MBA courses and curriculum
The MBA curriculum is typically divided into two parts:
Core MBA courses cover the foundations of general management. Core courses typical of MBA programs include:
Accounting
Business Communication
Business Ethics
Business Strategy
Data Analytics
Economics
Finance
Leadership
Marketing
Operations
Elective MBA courses give you the opportunity to select courses that best match your individual career goals. You usually study the core MBA syllabus before choosing electives in the second half of the program.
There are a wide variety of elective courses covering anything from HR management, nonprofit management, entrepreneurship, sustainability and CSR, to cutting-edge topics like artificial intelligence and blockchain.
Most MBA courses are taught using the case study method, made famous by Harvard Business School, which sees students analyze case studies of business successes or failures before discussing them in class.
You learn the business theory during an MBA before applying your learnings in group project work or even real-world consulting projects. Outside class, you can immerse yourself in all aspects of business school life: MBA clubs, extracurriculars, networking events, conferences, competitions, company visits, and exciting international immersions.
What's it like being an MBA student? "The irony of the MBA is that it's usually pursued in an effort to stand out, but during the experience your interaction with so many interesting, driven, and stimulating people is both humbling and inspiring," says Pascal Michels, former MBA student and MBA admissions director at IESE Business School, now a director and consultant at MBA admissions consulting firm Menlo Coaching.
"Beyond the academics, an MBA is really about the people you meet; the friendships forged in heated classroom discussions and late-night team meetings—that's what triggers much of the personal growth."
MBA jobs: What can you do with an MBA?
What can you do with an MBA degree? Pretty much anything you set your mind to. An MBA prepares you for jobs in a variety of industries and roles. Typical MBA jobs include:
Finance Manager
Financial Advisor
HR Manager
Investment Banker
IT Manager
Management Analyst
Management Consultant
Marketing Manager
Operations Manager
Employers love hiring MBA graduates and many recruit on campus. According to GMAC's Corporate Recruiters Survey, 91 percent of global employers plan to hire MBAs in 2021 despite the impact of COVID-19.
Increasingly, MBA graduates can be found in industries ranging from healthcare to nonprofits working for both multinationals and startups, and many start businesses of their own. In 2020, 18 percent of Stanford Graduate School of Business graduates dedicated themselves to entrepreneurship and launched their own ventures.
Companies that hire the most MBAs include the Big Three management consulting firms, Bain, BCG, and McKinsey; Big Tech firms like Amazon, Google, and Microsoft; and accounting firms like Accenture, Deloitte, and EY.
Several years after graduation, MBAs progress to senior, executive-level jobs. Many Fortune 500 CEOs—including the CEOs of Apple, JP Morgan, Microsoft, and Walmart—have MBAs.
"When we hire an MBA grad, the global perspective and diversity of experiences they have allows them to plug right into Bain, and any of our capability areas, and start helping our clients succeed in their industries," says Keith Bevans, global head of consultant recruiting at Bain & Company.
MBA salary: What can you earn?
Getting an MBA degree will boost your salary prospects. MBA students from top-ranked business schools in the United States can expect to earn starting salaries of between US$120k and US$160k on average after graduation, as well as lucrative signing and performance bonuses.
Three years after graduation, MBA salaries can increase by well over 100 percent. Across the top 10 MBA programs ranked by the Financial Times in 2021, students increased their salaries by more than 118 percent on average three years after their MBA.
Your average MBA salary prospects naturally vary depending on your industry, role, and the business school you go to. The highest-paying MBA jobs tend to be in finance or consulting. Consulting salaries for MBA graduates can reach US$170k after graduation.
The average MBA salary in the US is around US$107k after graduation, although MBA salary also varies by location. Based on your experience level and industry, you can estimate your post-MBA salary using our interactive tool.
MBA cost: Is an MBA worth it?
How much does an MBA cost? According to the BusinessBecause Cost of MBA Report 2020, the average total cost of studying one of the world's top-ranked full-time MBA programs is US$168k. This figure includes the cost of tuition, additional fees, living expenses, and healthcare insurance.
The cost of an MBA varies significantly depending on where you study. The average total cost of a top-ranked, full-time MBA program in the US is US$213k, while in Asia it's US$98k.
Tuition fees for top-ranked full-time MBA programs vary from US$49k to over US$158k, according to BusinessBecause.
There are many more affordable full-time MBA programs too that deliver similar quality of learning and outcomes. Nottingham Business School, priced at $29k for internationals, and Aston Business School, US$36k, offer two of the most affordable MBA programs in the UK.
If you're living at home and working alongside a Part-time MBA, Online MBA, or Executive MBA program, you won't pay additional fees related to living costs and you won't face the opportunity cost from missing out on your salary.
What's more, business schools offer a variety of MBA scholarships and financial aid to help you fund your tuition, meaning—for full-time MBAs especially—you'll rarely pay the full cost of tuition for your MBA.
These benefits—plus the post-MBA salary, skills, and network you'll gain—mean you shouldn't let the price of an MBA put you off when weighing up your return on investment (MBA ROI). If you can find the best fit MBA program that can deliver on your personal ambitions and career goals, then an MBA is more than worth it.
MBA admissions: Applying for an MBA
What are the standard MBA admission requirements? Most business schools require an undergraduate degree or equivalent qualification and a minimum level of work experience.
You'll need to prepare your application materials—resume, essays, recommendation letters, and GMAT—before applying by an MBA application round deadline. If successful, you'll progress to an interview before getting a final offer of acceptance.
Applying to business school can be competitive, with MBA acceptance rates for top-ranked MBA programs as low as 8.9 percent, at Stanford, although most top-tier programs admit 20-to-60 percent of applicants, according to BusinessBecause.
The GMAT exam is a key performance indicator for business schools, but schools consider your holistic profile, looking at all aspects of your application together.
"Strong candidates have a habit of leadership in past and current endeavors, analytical appetite and curiosity, and a penchant for contributing to the success of a community. We want to get to know each applicant and to try to understand how s/he will contribute in our classrooms and community," says Chad Losee, Harvard Business School's MBA admissions director.
Now you know what an MBA is and how an MBA can benefit your career, it's time to take the next step and apply. The MBA application process requires organization and perseverance, and you'll need to do your research to find the business school that best matches your personality, areas of interest, and career goals.
Find out how to navigate the full-time MBA admissions process and more in our free-to-download Full-Time MBA Application Guide.