One of the biggest reasons people choose to pursue an MBA is the boost it gives to their post-MBA career. The all-round development that MBA students undergo during their time at a business school makes them a highly attractive proposition for employers, who are seeking talent that possesses sharp business acumen and leadership skills to drive future growth. MBA graduates find a place in every industry, from healthcare to finance.
With so many possible career options after an MBA, it can be a bit overwhelming for students to narrow down on their ideal role. Furthermore, knowing what you want to do after MBA can also be an important deciding factor for your choice of business school and MBA specialization. To help you out, we here discuss the most popular MBA jobs in India, in the hope that it'll make your decision easier.
Post-MBA Career
Jobs after MBA: Investment banking
Becoming an investment banker is one of the top choices for a career after MBA. Most graduates join in the role of an Associate and work on helping their clients, some of the world's leading companies and governments, raise capital or pursue other growth opportunities through securities and other financial instruments, mergers and acquisitions, and corporate restructuring, among others. The position is highly rewarding, in terms of not just the money and career trajectory but also the impact you have on the global business world.
Becoming an investment banker requires you to be proficient in crunching numbers and financial modelling as well as have an acute strategic vision. Students who want to pursue this career path usually choose the MBA in Finance specialization.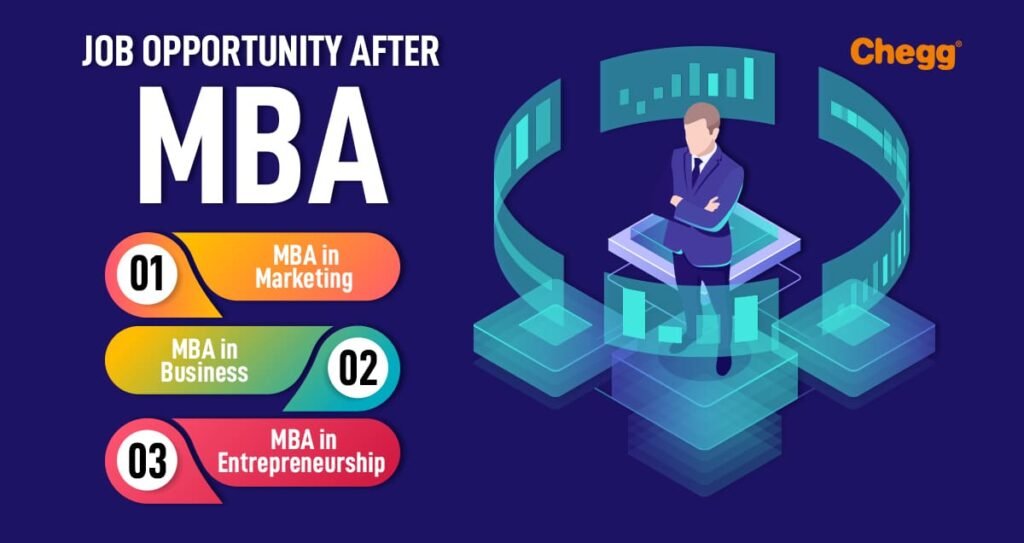 Although the kind of pay package you can get is dependent on the reputation of the business school, the average figure across India would fall within the range of ₹25 to ₹30 lakh per annum and can go up to ₹40 lakh per annum for top-tier schools. Potential recruiters include both Indian banks such as HDFC, ICICI, and Axis Bank, and global financial institutions like JP Morgan, Goldman Sachs, and Citi.
Jobs after MBA: Private equity, venture capital, and investment management
The finance industry is a very lucrative industry to be a part of. Apart from investment banking, MBA graduates can find roles in sectors such as private equity, where they lead investment opportunities in private companies; venture capital, where they help in identifying and investing in high potential start-ups; and investment management, where they manage portfolios comprising of multiple financial assets. The compensation in these job profiles is quite similar to that of investment banking.
Jobs after MBA: Management consulting
Management consulting ranks alongside finance as one of the most sought-after MBA jobs for graduates in India. Companies often hit a roadblock and seek outside expertise to improve one or more aspect of their business, which is where consulting firms come into the picture. They make an objective assessment of the situation and formulate the appropriate strategy to overcome it and drive future growth. Some consulting companies can be broad and cover all facets of a business while some can provide specialized services like strategy consulting, operations consulting, technology consulting, sales and marketing consulting, or human resources consulting
Management consultants are as well paid as investment bankers and other finance professionals, with starting MBA salaries reaching up to ₹35 lakh per annum if you are a graduate of a top business school while others can earn between ₹25 to ₹30 lakh per annum. Top employers include McKinsey, Bain, Boston Consulting Group, and Kearney.
Given the need for management consultants to have thorough business knowledge and excellent interpersonal skills, it is easy to understand why consulting firms avidly seek MBA talent. And the attraction of assisting a wide range of leading organizations across multiple industries with their pertinent business concerns is what draws graduates towards this role for a career after MBA. The rapid career progress, chance to travel and opportunity to network with business leaders are just additional perks.
Jobs after MBA: Marketing
Although marketing has always been one of the most essential components of a business, its importance has only risen in recent years as competition has increased manifold and brands are seeking new and unique ways to stand out from each other. Marketing managers are responsible for just that as they conduct market research, analyze competition, and study consumer behaviour to come up with an impactful marketing strategy that will increase brand awareness, gain new customers and retain old ones, and eventually drive revenue growth. Marketing managers are also often involved in decisions regarding product, pricing, and sales channels.
MBA students, especially those that pursue an MBA in Marketing, by the virtue of their academic and practical learning are well-equipped to handle all the above tasks. The work is quite dynamic, requires creative and innovative thinking, and can have a memorable impact, thus making it a top choice among all MBA jobs. Since you will need to work with and manage multiple external and internal stakeholders, effective communication and leadership skills are crucial.
Marketing managers are needed by all companies, thus offering students a wealth of options to choose from. However, FMCG, retail, and technology firms are the primary recruiters. The average salary would be between ₹20 to ₹25 lakh per annum, with students from premier business schools or having previous experience even demanding ₹30 lakh per annum.
Jobs after MBA: Product management
Traditionally, product management was considered a part of the marketing function at FMCG and manufacturing companies and dealt more with pricing, placement, and promotion of products rather than the actual product development. But over the last two decades, the rapid ascent of technology companies, which are developing increasingly innovative and customized products at high frequency, has transformed the role of a product manager and made it one of the hottest MBA jobs in the 21st century.
Product managers take complete ownership of a product's lifecycle, from design to delivery. They lead cross-functional teams, working with the engineering team to develop and test the product; the marketing and sales team to understand the market requirements and competitive landscape as well as devising a marketing and distribution roadmap; and the customer support team to get feedback that can be used for improving the product. Product managers need great strategic sense, problem-solving ability, entrepreneurial thinking, and effective communication skills, all of which make MBA graduates ideal candidates for this role.
Technology companies, be it multinational giants like Amazon, Microsoft and Google, or firms from specialized sectors like e-commerce (example – Flipkart, Udaan), mobility services (example – Ola, Uber), financial technology (example – Paytm), educational technology (example – Byju's), and food delivery (example – Zomato, Swiggy), aggressively hire MBA students as product managers. However, even FMCG and industrial goods companies hire for this role. Product managers earn healthy MBA salaries, averaging around ₹25 lakh per annum.
Jobs after MBA: Project management and program management
Project managers handle the end-to-end implementation of a project, including devising an execution strategy, setting project goals, establishing KPIs, allocating resources, meeting the budget, and meeting targets. Program managers operate at a level above and oversee multiple dependent projects needed to achieve a broader strategic vision for their company.
MBA graduates are highly suitable candidates for project management or program management roles since they have the required managerial prowess. They are also paid handsomely, with an average salary between ₹20 and ₹25 lakh per annum. Again, potential recruiters could include companies for various industries, though technology companies are usually at the front of the pack.
Jobs after MBA: Business development
Business development managers are tasked with helping their companies expand. This could be through acquiring new customers, entering new markets, forming new partnerships, or identifying new sales channels. The role needs you to have both commercial and operational acumen as well as possess excellent leadership and relationship management skills. MBA graduates interested in this position can find opportunities in all major industries and can expect to earn between ₹20 to ₹25 lakh per annum on average.
Jobs after MBA: Human resource management
Human resource managers are responsible for the most vital component of any business – the workforce. They take charge of talent acquisition and the recruitment process, training and career development programs, compensation and benefits, company culture, workplace policies and compliance, employee grievances, and industrial relations. MBA in Human Resources graduates can either join as generalists, where they handle multiple areas of human resource management, or specialists, where they focus on one aspect. The average starting MBA salary of human resource managers falls between ₹15 to ₹20 lakh per annum.