Money may not be able to buy happiness, but a bigger paycheck wouldn't exactly make you sad, would it? One of the top professional goals among prospective MBA students is to make more money, and survey responses from alumni show that their post-MBA salaries don't disappoint. Overall, nearly 9 in 10 MBA alumni agree that their degree increased their earning power and just as many rate the overall value of their degree as good to outstanding.
Business school graduates' salaries tend to be higher than their peers
What's more, the Graduate Management Admission Council's (GMAC) annual Corporate Recruiters Survey shows that of more than 700 global corporate recruiters, 3 in 4 reported that employees at their organization with a graduate business school education tend to earn more than those without. Recruiters from Fortune Global 500 companies were especially likely to agree (85%), as were recruiters from the health care (90%), products/services (80%), technology (78%), and consulting (77%) industries.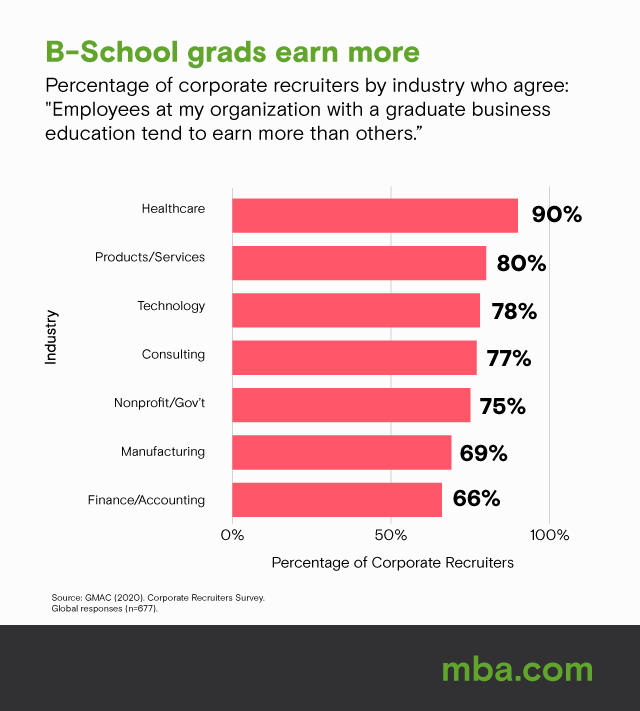 The most recent survey results show that employers plan to offer new MBA hires a median starting salary of US$115,000—notably higher than the median for direct-from-industry hires ($95,000) and bachelor's degree hires (US$65,000).
The compensation premium is even more apparent for Fortune 100 companies and the big-three industries of hire for MBA graduates—consulting, finance, and technology. For example, at US$145,000, the median salary of MBAs in the consulting industry is twice that of bachelor's degree holders.
Why are MBA salaries so high?
What makes MBA graduates so valuable to companies? For one thing, MBAs can hit the ground running and make a positive impact in a short period of time. Overall, 9 in 10 global corporate recruiters say they are confident in graduate business schools' ability to prepare students to be successful in their organizations.
Specifically, a majority of recruiters say the reasons for their high confidence in business school hires are that they have a versatile skill set (72%), they are strategic thinkers (71%), and have strong communication skills (69%).
MBA graduates' versatile skillsets make them extremely attractive to employers
The broad-based, generalist curriculum of MBA programs span the spectrum of topics relevant to business leadership, providing students with a solid footing in the principal concepts that will underpin their career development for decades into the future.
"An MBA is a very effective way to broaden your skillset very fast," says Zaneta Motkowicz, head of training and development for MBA and Master programmes at SDA Bocconi School of Management. "It's the perfect opportunity to build up your strengths and expand and diversify your skills in new areas."
The breadth of knowledge that MBA new hires bring to the table makes them a great match for leadership positions, especially in overseeing teams from different functional areas.
mba salaries high
Strategic thinking ability sets MBA hires apart in the hiring process
The number one subject that MBA candidates agree is a "must-have" in their ideal curriculum is strategy, and for good reason: strategic thinking is a major skill that sets MBAs apart from the pack in the hiring process. Overall, 59 percent of global corporate recruiters identify managing strategy and innovation as the number one most important skill for business school graduates to possess for current job openings.
"Many MBAs are being asked to come in at a level where they are managing people. They're being asked to make strategic decisions (not just implement them), and they're being asked to creatively solve problems, which is what innovation truly is," says Abby Scott, assistant dean for MBA Career Management and Corporate Partnerships for the Haas School of Business, University of California Berkeley. "This skill perfectly suits what an MBA teaches, and employers can gain genuine value from it."
Looking to the future, recruiters predict their demand for strategic thinking will only increase. Sixty-two percent say that managing strategy and innovation will experience growing demand in the next five years—more than any other skill in the survey. This is a strong indication that investing in your strategic thinking abilities now will have major career benefits in the future.
Communication skills and other soft skills are a key differentiator
Communication is one of those things that we all do every day, but many of us do it poorly. The good news is that effective communication is learnable, and business school is the place to master it. In a survey of full-time MBA alumni, 4 in 5 agreed that business school played a meaningful role in developing their communication skills.
"An MBA combines hard data and tech skills with soft skills like emotional intelligence and empathy—which are increasingly important in the digital world and will only grow in demand in the future," explains Dr. Christine Menges, director of the MBA Career Center at WHU – Otto Beisheim School of Management.
Recruiters most commonly identified interpersonal skills as important to their current job openings, which include communication and soft skills like active listening, social perceptiveness, coordination, and, persuasion and negotiation. Particularly as the business world becomes increasingly digitally focused, the importance of human connection and understanding for managers will increase significantly. Overall, 57 percent of recruiters say interpersonal skills will grow in demand over the next five years.