STEM MBA programs are increasingly popular, offering benefits to both domestic and international students. Here are the top US MBA programs with STEM designations.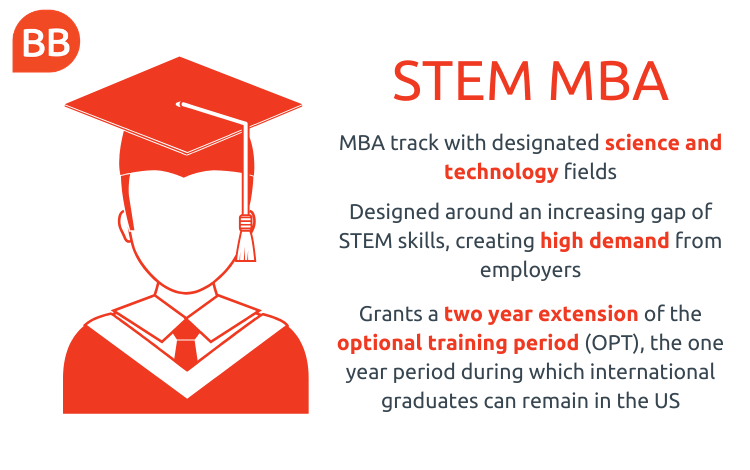 Harvard Business School
Harvard Business School announced it was adding a STEM pathway to its MBA program in January 2020. The Management Science track takes place over both of the program's two years and covers areas including Entrepreneurial Management, Negotiation, and Technology and Operations Management.
Johnson Graduate School of Management, Cornell University
Applicants to Cornell's MBA programs can choose from three STEM designated courses. The Management Science MBA can be studied over one or two years, with two-year students given further opportunity to develop their leadership and management expertise. The Cornell Tech MBA focuses on preparing students to thrive in the digital economy, with a curriculum focused on innovative tech solutions.
Kelley School of Business, Indiana University
Kelley School of Business offers five STEM designated majors within its full-time MBA program, in Business Analytics, Finance, Marketing, Strategic Analysis of Accounting, and Supply Chain and Operations. Not only do students who complete the course qualify for their 36 months Optional Practical Training, but they will also become part of the world's largest business school network which includes over 117,000 Kelley alumni around the world.
Kellogg School of Management, Northwestern University
Northwestern's MD-MBA Program combines management and medicine to create leaders in an ever-changing healthcare industry. This is a joint-degree program between the Kellogg School of Management and the with the Feinberg School of Medicine, aimed at and is aimed medical students.
University of North Carolina Kenan-Flagler Business School
At UNC Kenan-Flagler, all four MBA programs—Full-Time MBA, Evening MBA, Weekend Executive MBA and online MBA@UNC—are STEM designated. In all programs students benefit from coursework they can customize to their learning and career objectives, a collaborative learning environment, tailored leadership development, and a career services team dedicated to their long-term success.
Marshall School of Business, University of South California
USC Marshall's STEM-certified Management Science specialization is designed to combine data-driven decision-making and analytics with business fundamentals and leadership. Students are equipped to apply quantitative and scientific methods to business challenges, such as statistics, data analytics, operations and supply chain optimization, finance, forecasting, and digital marketing and modeling.
Mendoza College of Business, University of Notre Dame
Notre Dame's MBA/MSBA dual degree blends values-based business education with data analytics. The two-year degree includes practical fieldwork in areas such as agriculture and infrastructure development, of particular interest to socially-conscious students from developing countries.
Ross School of Business, University of Michigan
The management science specialization within the full-time MBA at Michigan Ross is STEM designated and worth 14 out of the course's 57 required credits. Students who opt into the track can choose to focus on a variety of interesting topics, including The Psychology of Startups and Artificial Intelligence for Business.
Stern School of Business, New York University (NYU)
NYU Stern offers two STEM-designated MBA degree programs, which reflects the integration of technology and analytics into the curriculum: the two-year Full-time MBA and the focused one-year Andre Koo Technology and Entrepreneurship MBA. Students can opt to select specializations from a list of over 20, ranging from strategy to fintech to digital marketing to sustainable business and innovation.
Simon Business School, University of Rochester
The only business school with a STEM-designated option for every specialization, the Simon Business school has a long-standing reputation for excellence in math-reliant subjects. The economist ranks Simon 3rd in the USA in terms of ROI based on percentage increase on pre-MBA salary.
Sloan School of Management, Massachusetts Institute of Technology (MIT)
MIT Sloan's Masters of Business Analytics (MBAn) is run in conjunction with the school's Operations Research Center. It takes students, in 12 months, through everything you need to address business challenges with data science. It boasts a 100% success rate for students who were seeking jobs in the US.