The admissions interview is not just for the school—it's your time to evaluate how the program will support you in achieving your dreams.
Your MBA or master's admissions interview is a unique opportunity to present yourself as a candidate and gain first-hand feedback about the b-school experience from the students, faculty, and staff who are closest to it. Practicing and preparing questions to ask in a graduate school interview will not only signal your interest in the program, but it will also help you determine if the b-school and program are a good fit for you.
Chioma Isiadinso, former assistant director of admissions at Harvard Business School and co-founder of the admissions consulting firm Expartus, shared some of the top MBA and master's interview questions candidates can ask schools during their admissions interviews—and what to look for in their responses.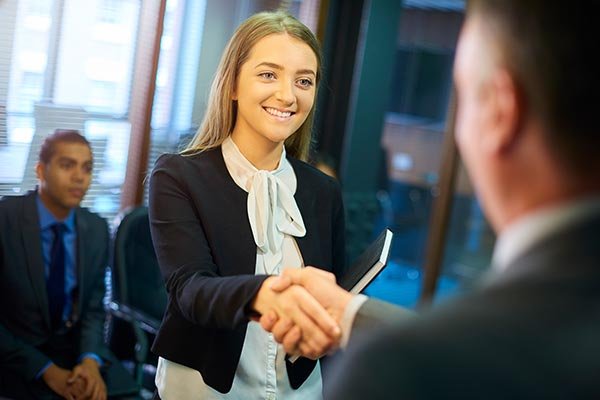 Question 1: If you were in my position, with my career goals, what would you say are your program's biggest advantages to me?

Make sure the answer to this MBA or master's interview question aligns with your perceptions of the program, as well as your interests, ambitions, and career goals. You want to come away with clear, concrete answers from the interviewer that can help you make your enrollment decision.

Question 2: What sets your campus culture apart from others?

By asking the master's or MBA interviewer this question, you can better gauge if their b-school is the best fit for you, your personality, and your career goals. Listen to the answer and ask yourself: Do I share the same values? Can I picture myself on this campus? Will their philosophy help support my aspirations?
Question 3: What has been the program's most valuable impact for you? How has this program supported your career?

If you're being interviewed by current students or alumni, ask what they feel are the strongest advantages of the MBA or master's program and why they chose that b-school over others. Ask for examples of how the program has helped them achieve their goals.
Question 4: Would you say that a large number of students enter [field/industry that you are interested in]? How does this program work to develop relationships with career contacts in that industry?

Consider the school's status and reputation in the industry and take note of practical answers with tangible applications. Use this question as a way to grasp how active the alumni network is and the level of support offered to degree holders.
Question 5: In the future, are you anticipating any major changes to the program?

If changes are on the horizon, you have a right to know and factor that into your decision. Understand how any adjustments may affect the curriculum, and how that could, in turn, impact your objectives.
Remember that the MBA or master's admissions interview is not just for the school – it's also your time to evaluate the program. Ask the master's or MBA interviewer other questions that clarify whether it's an academic and cultural fit, and how it will support you in achieving your dreams.
What questions to ask MBA interviewers?
While there's a lot to do to prepare for a graduate school interview, planning questions to ask your MBA or master's interviewer is a great way to ace your interview, show your enthusiasm and interest in the program, and ensure that the campus culture and program is the right fit for you.
However, as you know, b-schools also want to ensure that you are a good fit for their MBA or master's program. To do this, you must also be prepared to answer their questions.